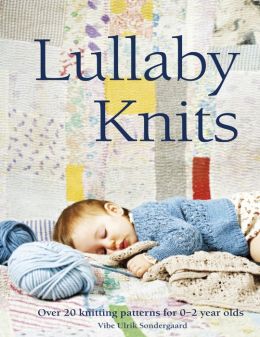 4.5 Stars!
ABOUT THE BOOK -
This beautiful new book of functional, stylish designs for babies contains over 20 unique knitting patterns for sweaters, cardigans, vests, dresses, blankets, bootees as well as a cosy wrap for mum.

Combining true comfort with contemporary design, in a world where time is precious and clothes are often mass-produced, Danish knitwear designer Vibe Ulrik Sondergaard has produced a delightful range of garments that are worth investing time into. Many of the designs focus on texture and shape in solid colours, and all aim to be comfortable for babies.
Beautiful stitches, quirky details, classic shapes and lush yarns are combined to inspire others to create their own unique garments and accessories.
ABOUT THE AUTHOR -
Vibe Ulrik Sondergaard studied fashion design at Kingston University. She has also studied in Copenhagen and at the Brooks Institute of Photography, Santa Barbara, California. Vibe currently lives in London and works for Zinc Design Ltd, designing and producing hand-knitted swatches that are sold to fashion companies in New York, LA, Paris, Barcelona and London. Design credits include Nicole Farhi and trend forecasting agency Kjaer Global, London. Vibe's first book, Labour of Love, was enormously popular.

MY REVIEW -
All together now - AWWWWWWW! Isn't that cover adorable?
There are a lot of really cute patterns in here. I would have to say, I like most of them! Which is really rare for a pattern book. There are really nice color pictures, several for each pattern. And there are a nice variety of sweaters, jackets, vests, and accessories.
So... why the 4.5 star rating? Well being from London, England - all the patterns are in metric! I know, I know that's what you get when you get a book from an author from another country. It could be worse, I have had pattern books totally in another language before! Its not terrible it just makes it kind of a pain in the neck to have to do the converting.
Most of the patterns are either lace or cables - and I love cables and lace! So I really liked all the patterns in this book, but some people might not like it. The patterns look a little more challenging, and I like that also, being an experienced knitter.
I have this book in the form of an e-book. I just ordered it from the library so I can really take a look at it. I might try one of the patterns to see how it knits up. I'll let you know when I do.
Thank you Netgalley and

Anova

book group for sending me this great e-book to read and review!