Knit Your Own Zoo
Easy-to-Follow Patterns for 24 Animals
by - Sally Muir
5 Stars!!!!!!
ABOUT THE BOOK -
From the authors of the beloved and best-selling Knit Your Own Dog, Knit Your Own Cat, and Knit Your Own Dog: The Second Litter comes Knit Your Own Zoo! With easy-to-follow, step-by-step instructions for 24 animals, it's an irresistible guide to knitting a single exotic pet or an entire stuffed menagerie.
What could be better than a cuddly koala or a long-necked giraffe to call your own? Knit Your Own Zoo includes patterns for both, as well as a tiger, crocodile, penguin, meerkat, elephant, armadillo, panda, a kangaroo and her joey, and 14 other delightful creatures. The animals are surprisingly easy to make; with a few evenings of work, you can have a covetable companion for life. Given a week, you could be charging admission to your own nature park!
Along with the knitting patterns, Sally and Joanna also include brief descriptions of the various species and offer tips and advice on sewing up and embellishing the animals.
And, of course, these knitted animals are much easier to look after than the real things—they don't eat, won't make a mess, and are legal to keep in your home.
ABOUT THE AUTHOR -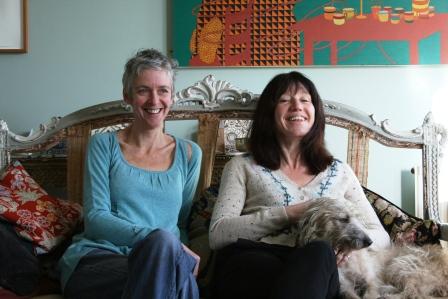 Sally Muir
and
Joanna Osborne
run their own knitwear business, Muir and Osborne (www.muirandosborne.co.uk). They export their products to stores all over the world including Barneys, Saks, Liberty, and The Cross. They won the U.K. Fashion Export Small Business Award in 2002 and several pieces of their knitwear are in the permanent collection at the Victoria and Albert Museum in London. Their previous books include
Knit Your Own Dog
and
Knit Your Own Cat.
Check out their website -
HERE
MY REVIEW -
Oh my gosh these are so stinkin cute!!!!! I want to make every single one of them!
I review "Knit your own Dog" and "Knit your own Cat" and I thought those were great. I think this one is my favorite!
As an avid knitter, I am always looking for new creative ideas. I don't like to stick to sweaters. I like knitting different types of things. I think these would be great for summer. They are small so you won't get hot from having it on your lap (see I think of those things).
I haven't tried one yet, but the patterns look pretty straight forward and easy to follow. I knit socks so I am used to using the tiny needles. I am really looking forward to using all three books!
Here are a few of my favorites (although seriously I could have put them all!).
A cute Koala -
I hate bats! But this one I think I would love -
A Righ-tailed Lemur!!!!!! I love Lemurs!
Thank you so much Netgalley and "Black Dog & Leventhal Publishers" for sending me this great e-book to review!
Get your copy from -
Amazon -

HERE
B&N -

HERE