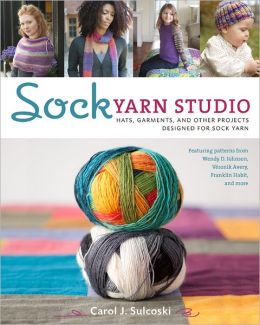 3 Stars
Knitting socks and knitting with hand-painted yarns are two hot trends. But what are knitters to do with leftover sock yarn? Or when they burn out on knitting socks? Sock Yarn Studio comes to the rescue with a delightful mix of projects--from one-skein hats, mittens, and scarves to multi-skein wraps, sweaters, and more--created with fingering or sport-weight sock yarns. And there's plenty of helpful advice for selecting yarns and knitting smart with tricky hand-paints and self-patterning yarns.
MY OPINION -
I guess for a new knitter this book would be OK. But, I didn't find anything new and exciting here. Most of the items I didn't even really care for and the ones I did I had already seen patterns similar.
Now I am an experienced knitter and it is hard to impress me.
The pictures are good, lots of pics, bright and colorful.
The patterns seem easy to follow.
As I said - This would be a great book for a beginner, it was just not for me.
Just wish there were some novel ideas.
~~~~~~~~~~~~~~~~~~~~~~~~~~~~~~~~~~~~~~
5 Stars!!!!!
Curiosity cabinets were collections of treasures-fossils and feathers, plants and paintings, skeletons and statues-assembled to help their owners make sense of the world. Offered here is a knitter's interpretation of a curiosity cabinet. This is a collection, not of rocks and seeds and gemstones, but of fancy edgings, delicate lace, and captivating stitches all brought together to create charming sock and accessory patterns. You're sure to find something that deserves to be added to your own store of knitted treasures.
MY OPINION -
Now THIS, to me, is a great book! Lots of new fresh patterns that I haven't seen before. I am bookmarking lots of patterns! There is a real nice variety in here as well.
From socks, hats, shawls, scarves, cowls, and mitts. And really - all beautiful!
But I would say that this book is mostly for experienced knitters (not really beginners).
The pictures are great, several pictures of each item all in color.
Here's some inside pics. Aren't they gorgeous? I can hardly wait to start knitting!
I've added this book to my Amazon wish list!