Knockout Knits
New Tricks for scarves, Hats, Jewelry, and other accessories
By Laura Nelkin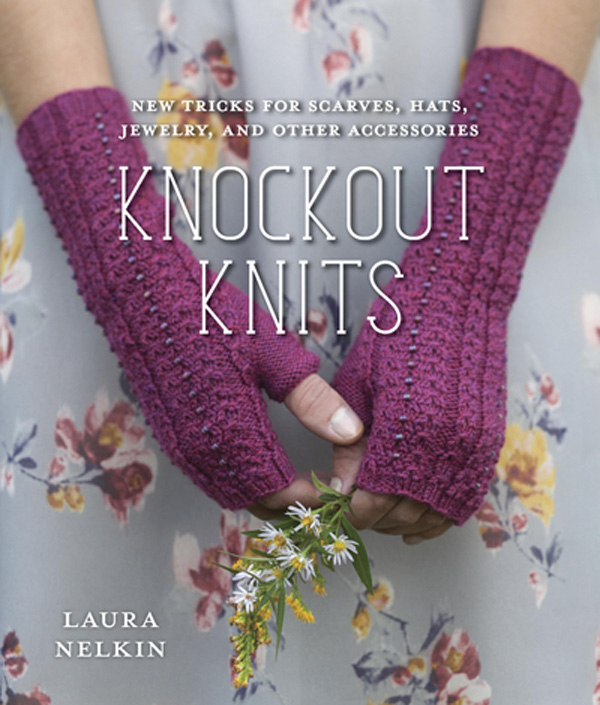 ABOUT THE BOOK -
An abundance of knitted luxuries--summery lace shawls, warm and wooly hats, a trio of cool knitted bracelets, and stunning beaded gloves--designed to grow your skills.
Who doesn't love to knit accessories? They're fast, often require only a skein or two of yarn, and make amazingly versatile gifts for friends and family. Small knits are also the perfect way to try something new--an unusual stitch pattern, wild multi-colored yarn, or even a touch of sparkle. Laura Nelkin is well-known for designing these fun-to-knit little projects introducing her students and fans to advanced techniques with her signature "You can do it!" enthusiasm. In her first book, she shares her 3 favorite types of knitting using wrapped stitches, lacework, and beads. Each chapter begins with a quick knitted cuff to lay the foundations, then gradually ramps up to more complicated designs. The result is an all-new collection of wearable, feminine knits with a slightly rustic aesthetic. Give them as gifts, stockpile for a chilly day, or dress up a casual outfit--these are knockout projects to enjoy knitting again and again.
ABOUT THE AUTHOR -
Laura Nelkin, a prolific independent knitwear designer, graduated from Cornell with a degree in Apparel Design. A former design director, Laura sells her knit pattern and kit line to yarn stores worldwide and teaches workshops around the country and online with Craftsy.com. Her patterns have been published through Nelkin Designs, and in
The Rhinebeck Sweater, Scarf Style 2, Knitscene,
and
Knitty
. Laura lives near Ithaca, New York.
Visit her at
www.nelkindesigns.com.
MY REVIEW -
Gorgeous, gorgeous, gorgeous! Well I was already a fan of Laura (We share the same hometown - Ithaca!), but this book is just plain fantastic! There are so many items I want to make.Everything in this book is good, there are no throwaways. I love this kind of knitting anyway - Lace knitting and cables. And I love knitting the small but more complicated stuff, socks, gloves, scarves, hats. I would rather knit those than sweaters any day.
Her directions are always excellent. The pictures are beautiful (full color and lots of them) and the diagrams and charts are perfect... need I say more?
This is one of my favorites! I can't wait to make this hat -
Thank you "Blogging for Books" for sending me this amazing knitting book for my honest review!
Get your copy from Amazon -
HERE