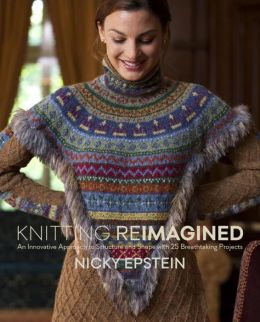 5 Stars
ABOUT THE BOOK -
Rethink traditional knitting with this groundbreaking collection of 25 sophisticated patterns for beautiful sweaters, jackets, and accessories from one of the most influential voices in knitwear design.

Award-winning author Nicky Epstein offers knitters of all skill levels adventurous, wearable projects that showcase innovative and clever construction and garment details. From a tunic created by weaving sections of knitting to a pullover featuring braided sleeve details, these patterns all offer interesting new twists on classic handknit designs. The stitches are easy, but the eye-opening results will challenge the way knitters think about this age-old craft. Each chapter focuses on one type of treatment, including innovative shaping, weaving, and braiding, directional knitting, or cutting-edge ways to use edgings and colorwork. Distilling her more than 30 years of knit design know-how, Nicky shares all the tricks of her trade in this gorgeous volume.

ABOUT THE AUTHOR -
Nicky Epstein, one of today's hottest knitwear designers, has gained international recognition for her innovative work, whimsical sense of style, and informative workshops. She has authored numerous books, including Knitting in Circles, Knitting Block by Block, Nicky Epstein's Knitted Flowers, Knitting On the Edge, Knitting Over the Edge, Knitting Beyond the Edge, and Knits for Barbie® Doll, among others. Her designs have also been featured in Vogue Knitting and many other knitting publications, as well as on television and at art exhibitions.
MY REVIEW -
Absolutely gorgeous hard-cover book!
This is not really a knitting book for beginners, but that's what I love about it! I am an advanced knitter and it is getting harder to find knitting books that are not just the basics.
This book has some BEAUTIFUL patterns! I am so excited to try some. Every pattern has several full color pictures and diagrams. I fully read through one of the patterns and there was nothing I didn't understand. It all seemed very straight forward and easy to follow. And at the end of course is the stitch glossary.
I think this book is very well done! Two thumbs up! I am also very excited to check out some of her others books as well. I don't believe I have seen any others by this designer.
Here are my favorite patterns -



And this one I really LOOOOOVE! I think I am going to try to make this later this year!


Thank you "Blogging for Books" for sending me this Gorgeous book for my honest review!
Get your copy from Amazon -
HERE